We have currently SUSPENDED ALL SHIPPING TO THE EU!
Due to Covid-19 restrictions & Brexit, delivery services to some destinations may take longer than usual. This is outside our control and we apologise for any inconvenience caused.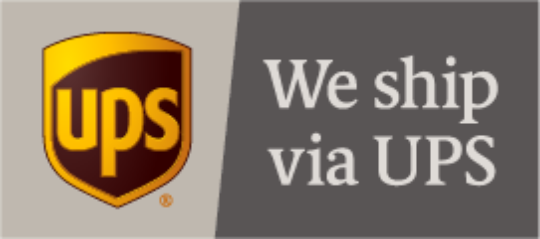 WE SHIP WORLDWIDE! We have many satisfied customers from all over the world. PLEASE NOTE, If you require shipping to a destination that is not shown in our checkout system please contact us for a possible quotation. To find out the shipping costs for any of our items just add them to the shopping basket. The shipping costs will be calculated automatically for you. We aim to ship all items within 1 - 2 business days from receiving payment. Our preferred shipper is UPS but we also send items via myHermes, DPD, DHL or Royal Mail, We DO NOT make any money on delivery costs, in fact it often costs more in packaging and postal costs than we charge. Some extra special items may even be personally delivered by us.
We try to package and ship items as carefully and "greenly" as possible, reusing packaging materials whenever possible, helping to keep the costs down for you. We have invested heavily in professional packaging equipment. We use boxes that are from responsible sources and recyclable airbags. All items are extremely well packed ensuring that you will receive your purchase safely and in the best condition possible.
All our items come gift wrapped and very well packed. Our customers love our packing and many have commented on it on our customers reviews page.
Unfortunately we CANNOT DELIVER to a PO Box address.
Import duties and taxes are payable by the receiver depending on the commodity and value of the goods. If applicable, import duty is usually charged as a percentage of the declared value of your goods. A customs clearance administration fee may also be charged. All customs charges will need to be paid before your goods are released for delivery. This also now applies to EU countries.
Import Duties and Taxes
PLEASE READ CAREFULLY BEFORE ORDERING YOUR ITEMS
Unfortunately we have decided to suspend all shipping to EU countries due to changes in regulations that have come about as at 1st July 2021. Until we can fully understand the best way to minimise the impact of these changes on our business and our customers we felt that we had no choice.

We thank you for your understanding during this time and we hope to be able to ship to the EU again in the future.
Import Duties and Taxes are also now applicable to EU countries and Northern Ireland.
Any Duties, Taxes and Fees required to be paid are the sole responsibility of the Customer who purchases the goods from Purely Portmeirion.
Purely Portmeirion are not given advance notice of any charges liable to be paid by the Customer and therefore cannot give the Customer an estimate of said charges prior to purchase.
Any charges are determined by Customs and Couriers once the shipment has been received and the Customer will be advised prior to delivery of their goods.
Goods will not be released for delivery unless the charges have been paid by the Customer.
Import Duties and Taxes are determined based on the actual commodity and value of the goods purchased. If applicable, Import Duty is usually charged as a percentage of the declared value of your goods. A Customs Clearance Administration Fee may also be charged. All Charges will need to be paid before your goods are released to you for delivery.
If the Customer refuses to pay for any Duties, Taxes and Fees required to be paid; the goods ordered by the Customer will not be delivered.
Purely Portmeirion accept no responsibility for Customers not receiving goods after Customers refuse to pay any Duties, Taxes or Fees.
If, when ordering from outside the UK, multiple items exceed carriers max weight/size limit, delivery will default to UK & items will need to be split into smaller quantities & ordered separately for the required destination.
PURELY PORTMEIRION IS NOT RESPONSIBLE FOR THE PAYMENT OF ANY CUSTOMS CHARGES.
Some remote areas may incur an additional surcharge by our courier and will cost extra. We will only be notified if this is the case when we book the delivery of your item. We will then contact you with an invoice for the remote surcharge. Upon payment your order will progress through our system or if you do not wish to continue we can cancel your order at this time.
WE SHIP WORLDWIDE!